FRENCH LUXURY IN THE HEART OF BRISBANE CITY

Indulge yourself in life's simple joys
Bienvenue to Sofitel Brisbane Central, our 5-star luxury hotel in Brisbane City. We invite you to live the French way, indulging in and celebrating the pleasures of life. #LiveTheFrenchWay #SofitelWorld
— Kayte Staraj, General Manager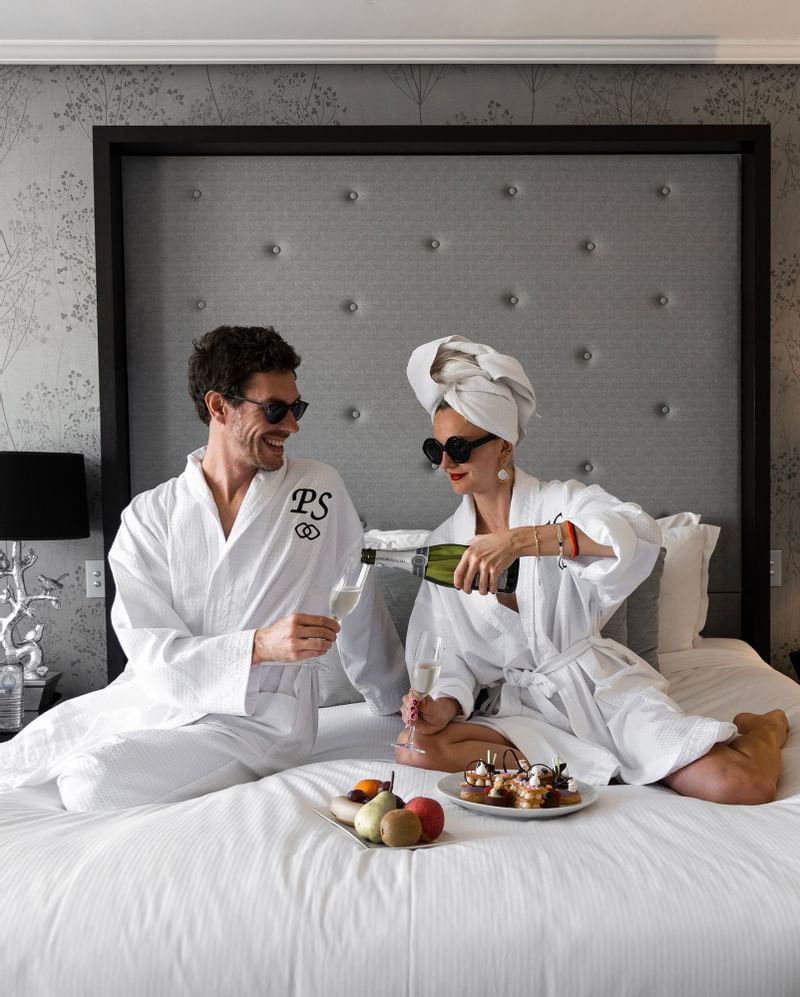 SOPHISTICATED LUXURY ACCOMMODATION IN BRISBANE

Sofitel Brisbane Central's luxurious interiors combined with its renowned personalised service provide a level of comfort and sophistication you won't find at other 5-star hotels in Brisbane. Savour the exceptional views from one of the best luxury hotels in Brisbane City, overlooking the iconic ANZAC Square and city's exquisite skyline as well as the famed Sunshine Coast hinterland.
Indulge in the culinary delights of Suzette, offering international and refined French-inspired dining. Revitalise your body, mind and spirit at Stephanies Spa for the finest luxury spa facilities and experience in Brisbane. Sofitel Brisbane Central is also home to the largest 5-star meeting facility in the city with 11 conference rooms accommodating up to 1,100 people. On Level 30, you'll find Club Millésime, the hotel's exclusive executive lounge where a refined experience awaits, inclusive of savouring evening canapes and drinks while enjoying panoramic views of Brisbane City and the hinterland.
With a vibrant cultural scene in the inner city and close-by neighbourhoods of South Bank and Fortitude Valley bursting with an exciting array of restaurants, bars and cafés, Brisbane is the place to be. Experience a Brisbane luxury hotel with access to the best of Brisbane's dining, shopping and cultural experiences. Sofitel Brisbane Central is located within walking distance of Queen Street Mall, Eagle Street Pier beside the Brisbane River, South Bank Parklands and the Convention Centre. The hotel also offers direct access to Central Station with easy transportation to the airport, Brisbane Entertainment Centre and the Gold Coast.
However, there's little reason to leave, with guests spoilt for choice with a range of world-class facilities - lounge by the rooftop swimming pool, enjoy fine dining delivered straight to your suite, conduct business as normal with free-Wi-Fi, or ground your body and mind at the hotel's state-of-the-art fitness centre.
HOTEL FEATURES
416 Luxury Rooms & Suites
Renowned Events Team & Banquet Chefs
On-Site Car Parking (additional costs apply)
Outdoor Pool & Spa
Convenient Location directly above Central Station
2 Restaurants, Cocktail Lounge, Bar & Gaming Bistro
24-Hour Reception
Award-Winning Luxury Spa
24-Hour In-Room Dining
Brisbane's Largest Hotel Event & Meeting Facilities
23 minute direct train from Brisbane Airport
Tesla Destination Charger (located in carpark)
Club Millésime - Executive Lounge on Level 30
SoFit Gymnasium and Australia's only hotel high performance gym, Elite Gymnasium (accessible for high level sporting teams)
Accommodation

Sophisticated, luxury accommodation in the heart of Brisbane's vibrant CBD
Club Millésime

Make your stay a little more magnifique...
Positioned on the hotel's top floor, Club Millésime offers guests an exclusive, luxurious oasis high above the city streets with sweeping panoramic city and hinterland views, along with a suite of lavish privileges.
Access to Brisbane's largest executive lounge on Level 30
In-room welcome gift on arrival
Complimentary breakfast in Suzette with reserved seating
Afternoon tea (Le Goûter) served from 3pm-5pm
Evening drinks and canapés (Apéro Chic) served from 5.30pm-7.30pm
Complimentary late check-out until 1pm (subject to availability)
Complimentary one-hour use of Governors meeting room per day
Selection of international and local daily newspapers and magazines
Unlimited high-speed internet access

Book our Club Millésime package to experience the high life today.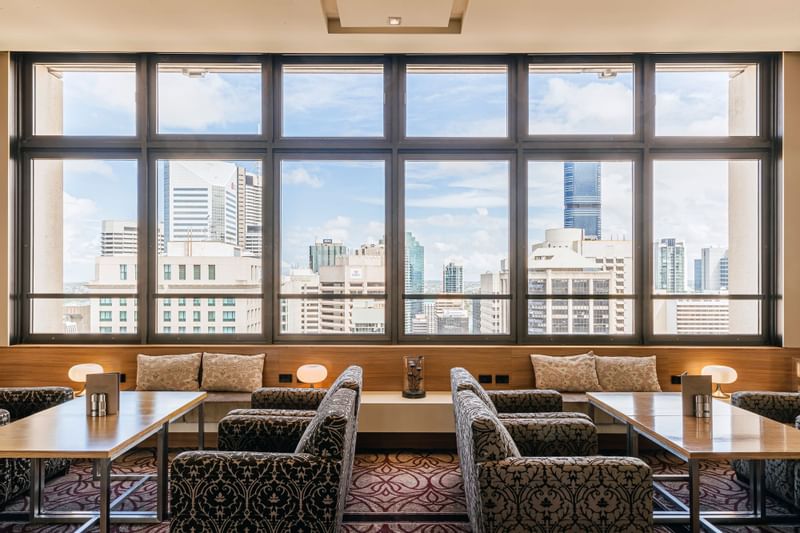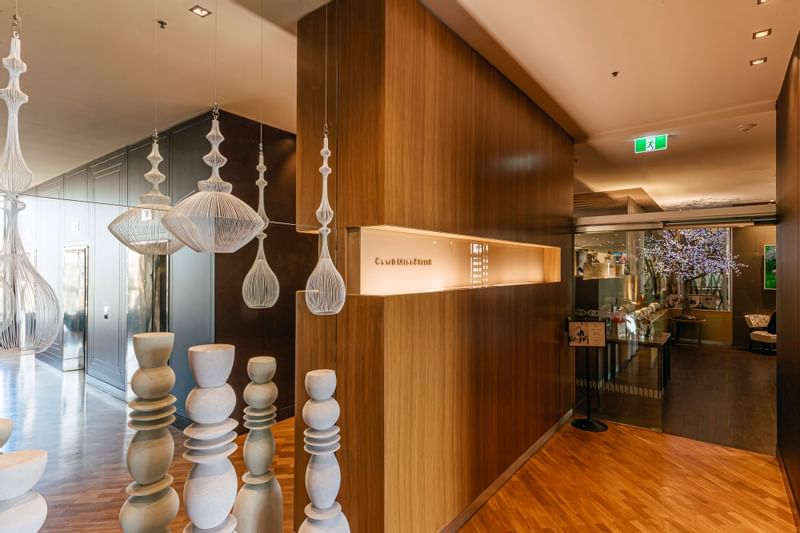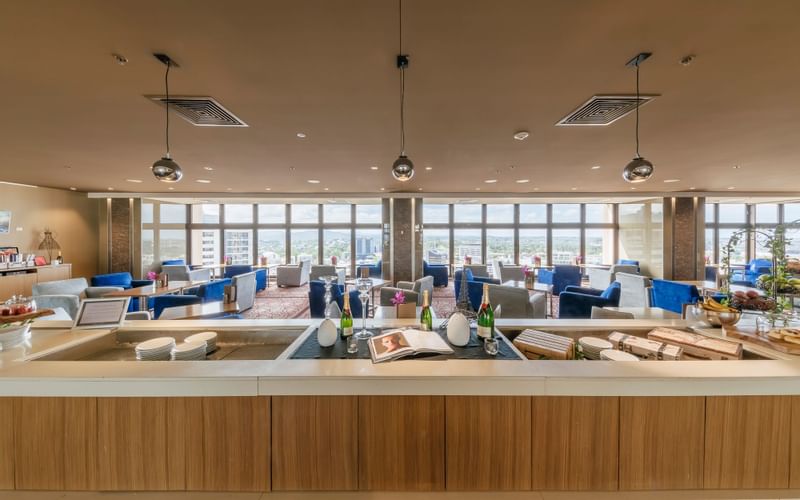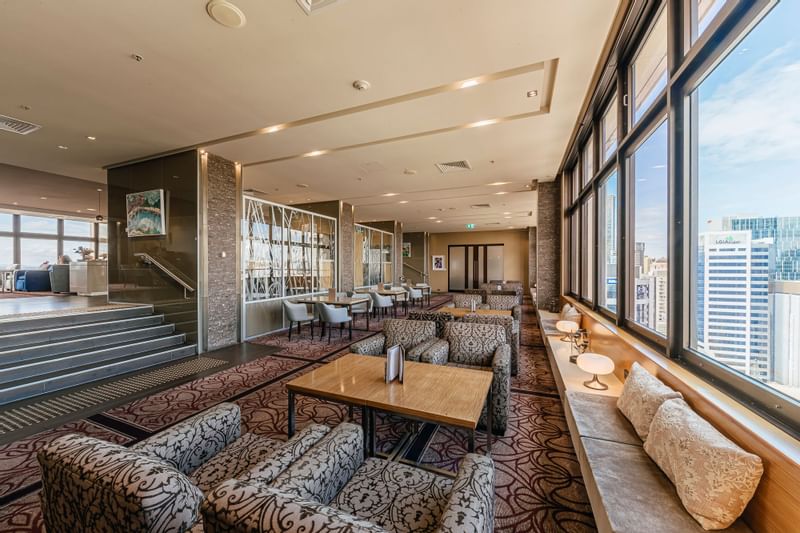 Guest Reviews

Brilliant, luxurious Stay
"We had a family reunion at the Sofitel. Our family had travelled from Germany to visit with us. The stay was absolutely magnificent! We hadn't seen each other for 4 years and all off the hotel staff from checkin to checkout and the Executive Club ensured we had a wonderful time. Every need was anticipated and professionally delivered."
M.B.J. - 01 August 2022
Everything we had hoped.
"We loved our stay. From the room upgrade to the brilliant breakfast in Suzette, to the amazing concierge staff - we had everything we ever needed. The fruit and water at the concierge desk was very welcome as we enjoyed walking around Brisbane. Thank you."
Francene C. - 8 August 2022
"Our stay was Just great. We stayed for an extended period during July and found the hotel to be in Just the right location in the city for what we needed to do. The staff were Just fantastic especially the restaurant team. We had the privilege to access the lounge from which the sunsets were Just outstanding."
Elaine T. - 7 August 2022
A lovely relaxing stay
"Our stay was perfect from the time we checked in. Everywhere we walked in the hotel was clean and smelled fresh. Our bed was very comfortable with lovely plush pillows. Plenty of toiletries in the bathroom. Reception staff were friendly and streamlined our check in. We are looking forward to another stay."
Brisbanelizzle - 12 June 2022
Best ever hotel experience
"I was booked into the Sofitel Brisbane following a flight cancellation. My family arrived tired, frustrated and angry. From the minute we arrived the Sofitel staff were warm, thoughtful and efficient. Nothing was too much trouble. We ended up staying two nights and I am happy to say it was the best hotel experience I have ever had."
David - 01 August 2022
Great Stay Again
"My wife and I love staying at the Sofitel in Brisbane, it's in a great location that allows easy walking distance to Queens Street Mall, Eagle Street Pier and Anzac Square. The Suzette Buffet Restaurant breakfast and dinner is always enjoyable and as always both had an awesome variety of dishes to choose from."
John - 02 August 2022
The overall experience was amazing
"From checkin til my stay to my checkout, the overall experience was amazing. I arrived and greeted by everyone "bonjour" love it! The staff offered a glass of bubble while waiting to check in. Attended by a friendly staff and the check in process was smooth. Best part - the room, it is spacious and VERY comfortable, especially the bed. It is located at central which is in the heart of the city and everything is just a walk away. I will definitely go back."
El - 13 July 2022
My comfort zone
"Staying in central Brisbane for both business and pleasure. Perfectly located for business and for family to join me for dinner in the evenings. Staff cannot do enough for you and then further pride themselves on getting it right the first time. Looked after so well, In a very large and bustling hotel, we truely feel every time we stay there it is like we are the only ones there. You are my go-to choice for business and a break away in Brisbane."
Joseph D. - 28 June 2022
Absolutely Brilliant
"Cannot fault anything. Staff/Team were just fantastic. Room perfect, Buffet Breakfast sensational. Every team member we met were so welcoming & inviting, nothing was too hard."
Gabby - 21 June 2022
Great location, the most friendly and helpful staff!
"Every staff member was so lovely, restaurant was amazing and our room was perfect."
Katy - 28 June 2022
Lovely Suite
"We stayed Saturday night in a Suite and it was one of our favourites and we have stayed in a lot of Sofitels around the world. The hotel was busy but the service was First Class. We had drinks in the bar that was amazing and the buffet breakfast was also a great selection. Check in was a breeze and the girl who booked me in was extremely professional. The grand scale of the property is amazing and we will definitely stay when in Brisbane next time."
Kylie - 21 June 2022
Outstanding Hotel
"Great rooms, great restaurant and great service! The hotel is above Central Station, so if you come by taxi or train it's very easy to access. It's 3 minutes walking distance to the shops and 5-10 to great restaurants, or 15 if you want to travel to South Bank."
Jeffrey F - 6 May 2022
Staff are of the highest standard, catering was really good
"Not one issue as your staff are extremely well prepared and nothing is ever an issue. Rooms are also of the highest standard. Food is faultless."
Jason W. - 21 June 20222
Great to be back
"Had not been able to stay and to be back was a breath of fresh air. From the moment we were greeted on arrival until our final goodbye we felt like we were home again. It make you appreciate what a good hotel can be like."
John G. - 23 April 2022
We will absolutely be back
"Loved this accomodation for a variety of reasons, location was perfect with the station located below the hotel, a nice little pub in the same facility, moving around Brisbane was super easy. The staff in all areas of the hotel were fabulous, we could not fault them, the young gentleman at the front desk in the restaurant made a point of personalising our visit every time by remembering our name and room number, as a platinum member the lounge was great with a view of the sunset in the evening, the staff were amazing, I could not fault the service in all areas, we will definately be back, would not consider anywhere else at this time."
Kaylene B - 28 April 2022
A lovely experience
"Such an enjoyable weekend spent in the Sofitel. The whole experience was enjoyable and I cannot fault a thing. The food and facilities were fantastic and we had the best massage we have ever experienced at Stephanie's day Spa. The staff member on our check out was lovely and accommodating. We will be recommending to friends wanting to stay in Brisbane."
Brooke R. - 5 April 2022
Well located. Excellent stay. Amazing food. Lovely people.
"We stayed at the Sofitel for two nights. It was an absolute delight to spend our time there. My wife and I enjoyed it. The views from the hotel are amazing. Most of all, everything iconic is located within walking distance."
Lahiru J. - 26 April 2022
Great Stay as always
"We always have a wonderful stay at this location. The customer service from all staff is always brilliant, the rooms are always well maintained and clean and the location of the hotel is perfect."
Rae - 21 March 2022
Consistently High Standards Throughout
"We enjoyed as always, every aspect of our recent weekend stay at Sofitel Brisbane. We were celebrating my birthday and were touched by the beautifully presented sweet gifts and bottle of champagne left in our room on arrival, and again at lunch, the happy birthday plate of petit fours. The room was spacious, spotless and comfortable. Every staff member was friendly, helpful and well trained. We highly recommend this hotel."
Anne P. - 29 March 2022
Conveniently located, very quiet rooms and well maintained.
"The club was delightful each evening and the staff there couldn't do enough for you - they were super helpful and very respectful. The front desk staff were very polite and approachable. Clearly a very service oriented property."
Dean - 4 April 2022
Execellent hotel
"Our stay was fantastic. Excellent staff and facilities. The club lounge on the 30th floor has a beautiful view. A large range of drinks and canapés served from 5.30-7.30pm. Barista coffee available all the time when lounge open. Staff were excellent in the lounge. Very high standard of hygiene."
Janice1210 - 31 March 2022
Fantastic service
"Fantastic service The absolute level of professionalism and quality of service provided by the staff from arrival to departure made the trip an absolute pleasure."
Tim S. - 13 April 2022
Fabulous location, wonderful stay
"Overnight stay for business. Lovely greeting upon arrival. Room was beautiful with comfortable features throughout. Ate at Suzette for dinner, a la carte menu - recommend the fabulous truffle chips! Breakfast buffet was wonderful. Definitely stay again."
Karen C. - 11 March 2022
Excellent location, luxurious hotel
"We really enjoyed our overnight stay. Our room was extremely well appointed, our beds were like sleeping on a cloud, the hotel facilities were excellent, the location perfect. We hope to stay again when in Brisbane."
3TEM - 18 March 2022
Rock Star Welcome
"It was wonderful to return to our favourite hotel after what has been a difficult time for all. From the concierge to the duty manager to the club room manager our welcome back could not have been more special. They even remembered our wedding anniversary. This hotel is perfect for a city stay."
Michelle - 01 March 2022
5 star luxury
"We had an amazing 3 day stay. Nothing was too much trouble. Food and drinks were 5 star. Club access was definitely my favourite. Staff was so friendly and remember you each day. We will definitely be back. Thank you for making us feel so special."
Peta - 15 February 2022
Pre-Easter Escape
"A most enjoyable stay at Sofitel Brisbane for a pre-Easter stay. Check in on arrival was simple and our room immediately available On entering our room we found it fresh and well presented and ready for our stay. The room and subsequent servicing were a credit to the housekeeping team. Breakfast in Suzette was always a great start to the day, whilst afternoon were spent relaxing in Club Millésime . All members of the team were well presented, polite and ready to assist. Overall we had a most enjoyable stay. Many thanks to all concerned."
Colbowrights - 16 April 2022
Special Offers & Events

Curated stays, packages, and special events so you can Live the French Way
Sofitel High Tea

The finest high tea in the city returns...
Prepare to feel like a modern-day Marie Antoinette with our signature Sofitel High Tea as you savour the afternoon, the French way.
Whether it's for a special occasion or an overdue catch-up with your girlfriends, our decadent array of handcrafted French-inspired delights, paired with a glass of Champagne (or a mockatil) and a spectacular view of Brisbane City, promises to add that je ne sais quoi to your afternoon.
Selection of finger sandwiches and savoury items
Selection of sweets made in our in-house patisserie
Glass of Veuve Clicqout or a mocktail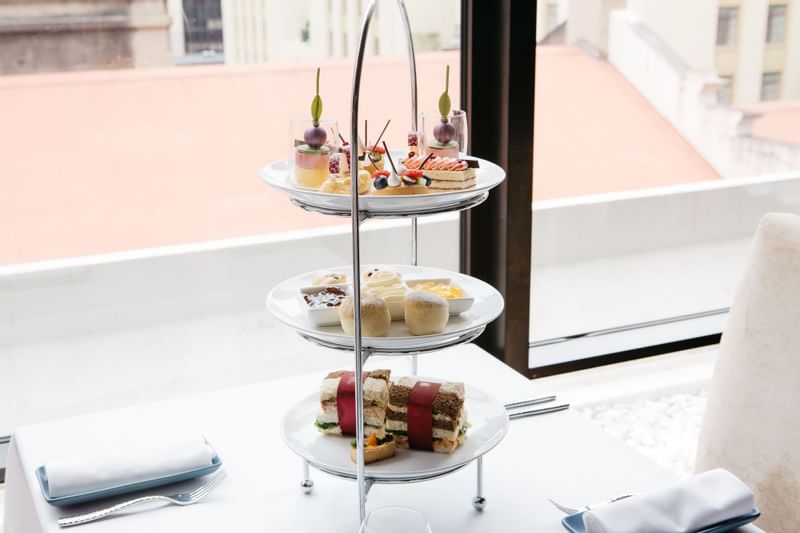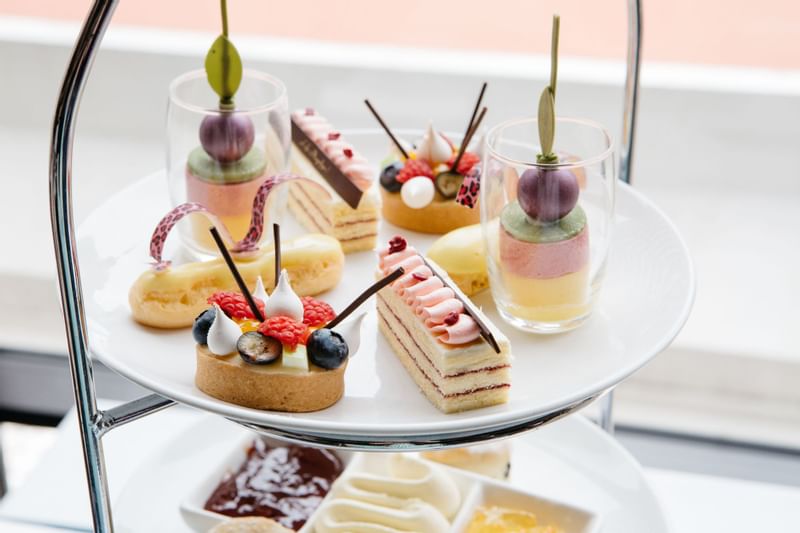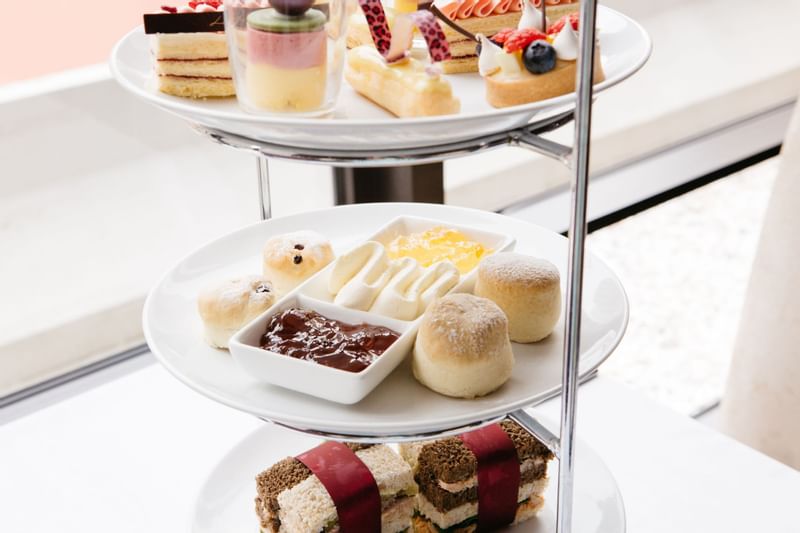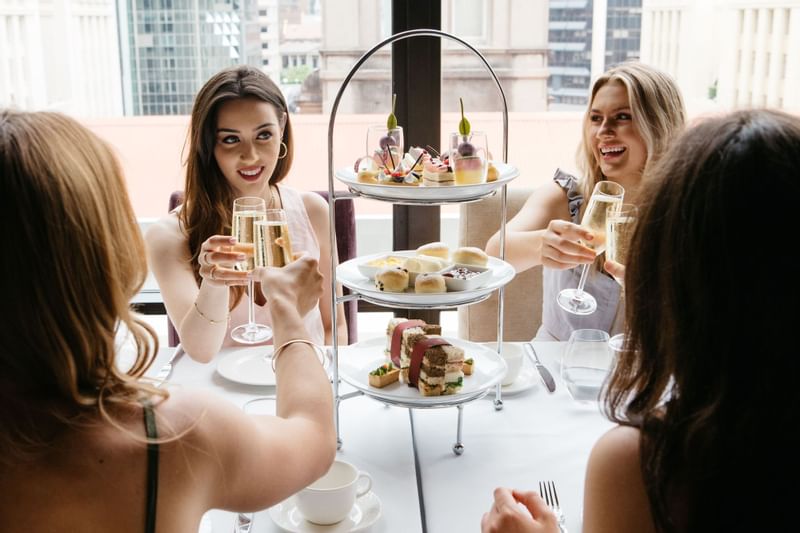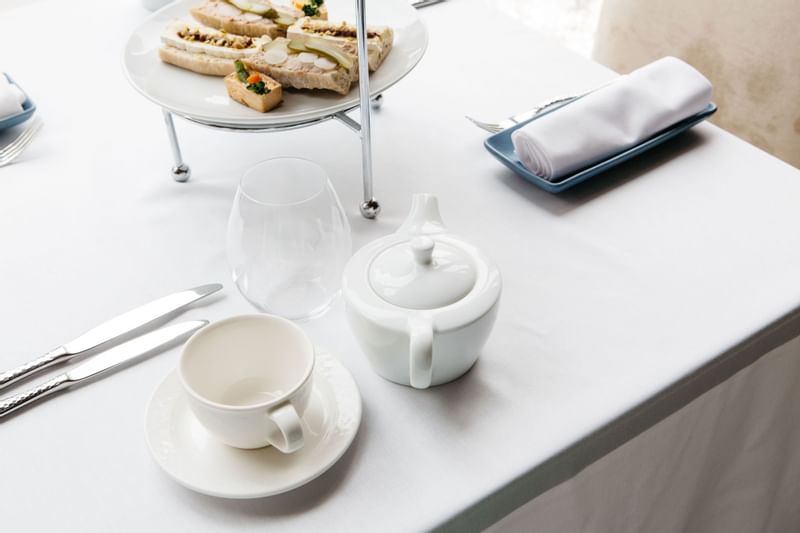 MAGNIFIQUE WEDDINGS

The city's premier wedding reception venue
From grandiose ballrooms to our alfresco Soirée Terrace overlooking Brisbane City, with our elegant, versatile collection of spaces and fully-tailored packages, your wedding day will truly be a 'magnifique' affair when you choose Sofitel Brisbane Central as your wedding venue.
Plus, understanding each wedding is unique and should be customised to your own personal style, our talented wedding planners promise to take care of every detail with personalised and professional service to ensure your wedding and reception is even better than you imagined.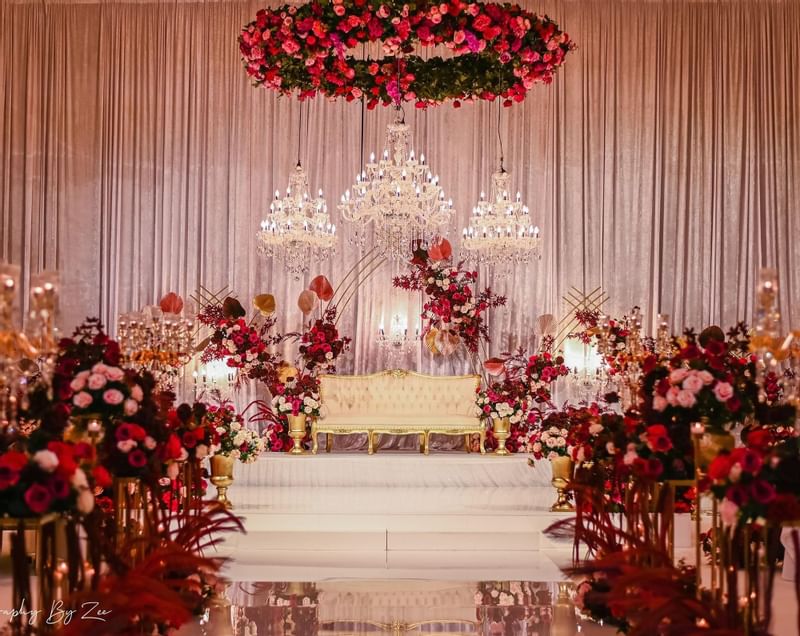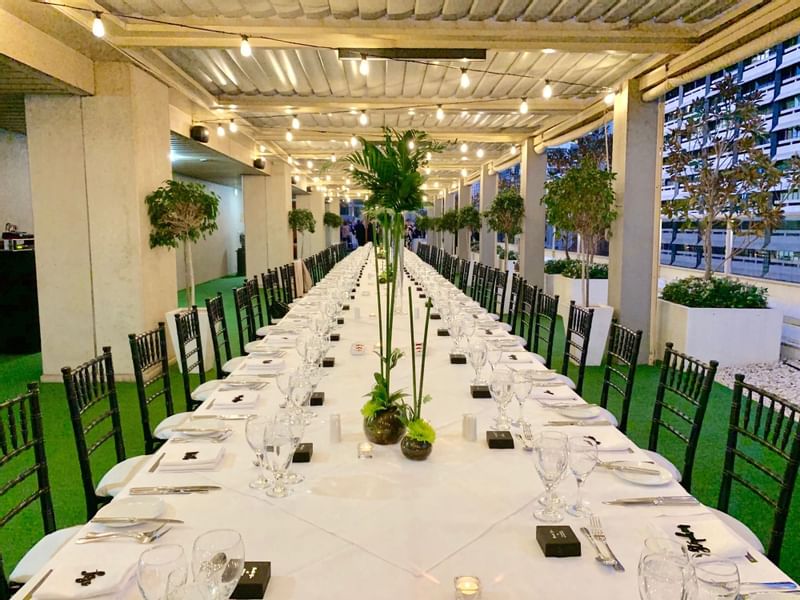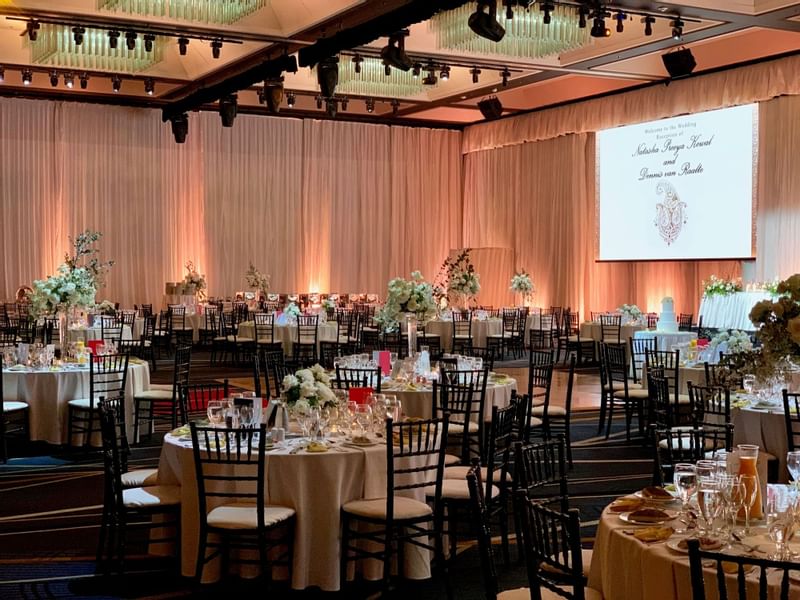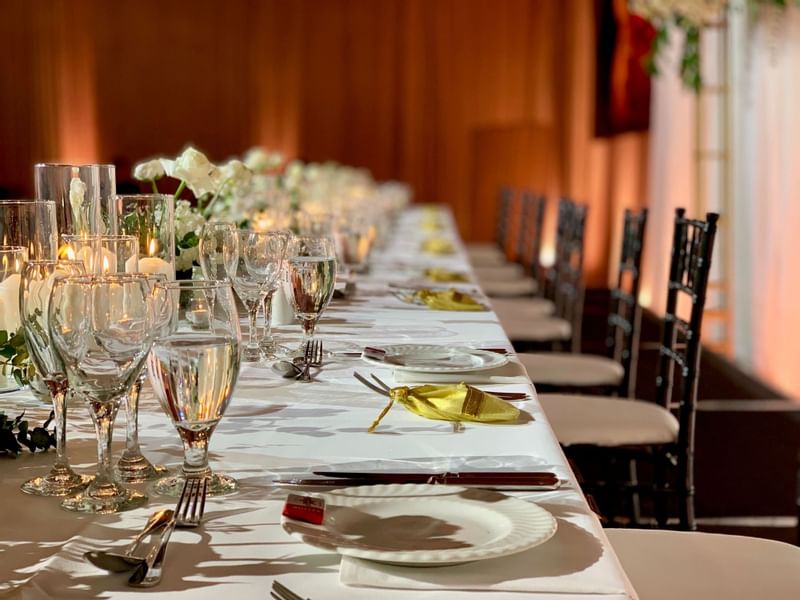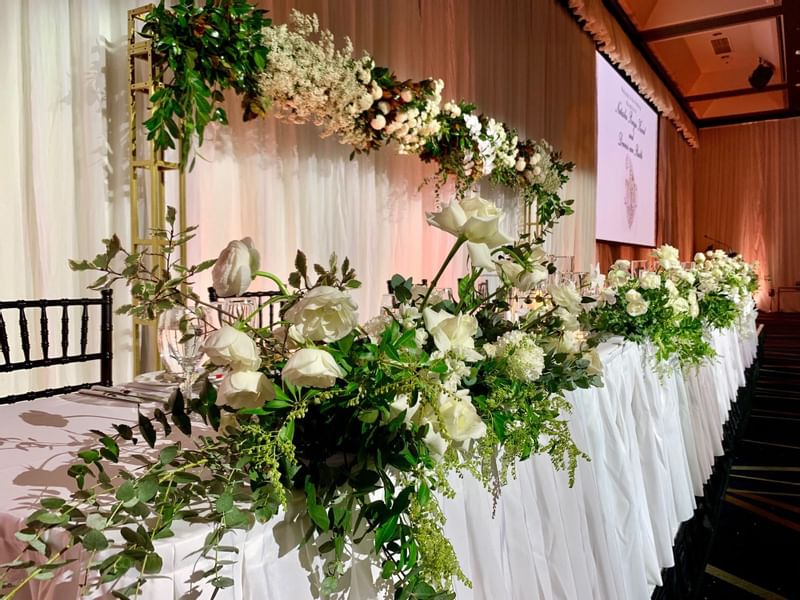 249 Turbot Street Brisbane QLD 4000
Magnifique Moments