FRENCH LUXURY IN THE HEART OF BRISBANE CITY

Indulge yourself in life's simple joys
Bienvenue to the Sofitel Brisbane Central. Located in the heart of Brisbane, we invite you indulge in and celebrate the pleasures of life - to Live The French Way. #LiveTheFrenchWay #SofitelWorld
— Kayte Staraj, General Manager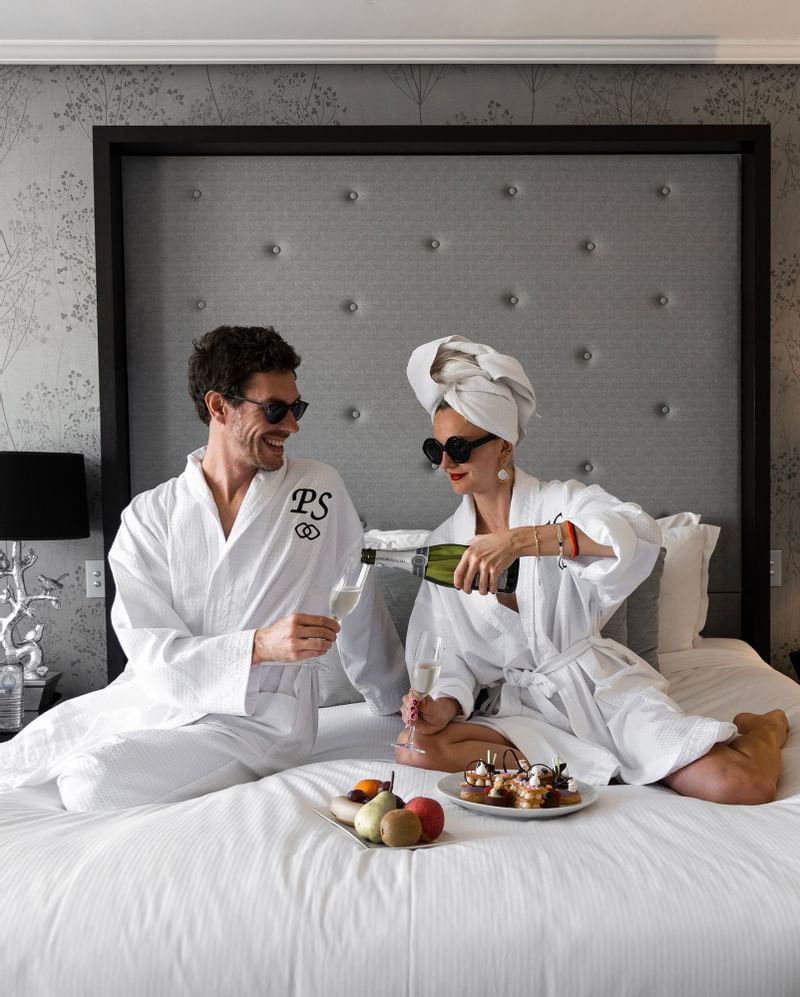 SOPHISTICATED BRISBANE CBD ACCOMMODATION

Sofitel Brisbane Central's luxurious interior spaces provide a level of comfort and sophistication that you won't find in other hotel accommodation near Brisbane's CBD. Savour the exceptional views from a luxury hotel in Brisbane City, looking over the iconic ANZAC Square to our exquisite city skyline and the famed Sunshine Coast hinterland. Indulge in the culinary delights of our award-winning Thyme² Restaurant offering international and refined dining. Revitalise your body and mind at Stephanie's Spa for the finest luxury spa experience in Brisbane. Sofitel Brisbane Central is also home to the largest 5-star meeting facility in the city with 11 conference rooms accommodating up to 1,100 people.
With a vibrant cultural scene and an exciting range of restaurants, bars and cafés, Brisbane is the place to be. Sofitel Brisbane Central offers access to the best of Brisbane's dining, shopping and cultural experiences. Located within walking distance of the city centre, acclaimed Eagle Street Pier, South Bank Parklands and the Convention Centre, Sofitel Brisbane Central also offers direct access to Central Station with easy transportation to the airport and Gold Coast.
From 17 December 2021, the Hotel will be operating in accordance with the Queensland Government Public Health and Social Measures guidelines. Currently, these guidelines provide that all guests, regardless of vaccination status, are welcome to stay at our Hotels for accommodation purposes, including for work or leisure. During your stay you will be able to enjoy the Hotel's swimming pool, gym and other outdoor activities. The Hotel's restaurants, cafes and bars will only be available to fully vaccinated guests with some exceptions, such as takeaway, applying. The Hotel will continue to operate in accordance with these guidelines should they change into the future. For more information, please visit the QLD Government website.
HOTEL FEATURES
416 Luxury Rooms & Suites
Renowned Events Team & Banquet Chefs
On-site Car Parking (additional costs apply)
Outdoor Pool & Spa
Convenient Location directly above Central Station
2 Restaurants, Cocktail Lounge, Bar & Gaming Bistro
24-Hour Reception
Award-Winning Luxury Day Spa
24-Hour In-Room Dining
Brisbane's Largest Hotel Event & Meeting Facilities
23 minute direct train from Brisbane Airport
SoFit Gymnasium and Australia's only hotel high performance gym, Elite Gymnasium (accessible for high level sporting teams)
Tesla Destination Charger in the carpark
Guest Reviews

We had a week at the Sofital, the staff were excellent and very helpful. The food in the restaurant was excellent but not cheap and the wine although wonderful was expensive. The breakfast buffet was good especially the omelets. Very comfortable beds.
SusieK19 - Sep 2021
Considering all that is going on with the uncertainty of our times it was so good to be in a hotel that truly does it's best to still give outstanding service and detail to all things especially the small things that matter most, even though the staff are all under there own difficulties yet still remain so professional and understanding. A great reflection on management downward. Thanks again for a wonderful stay under the circumstances.
sj4man - Aug 2021
Great Location - Great Service - Great Facilities
We always love staying at Sofitel Brisbane. The service is always excellent and the facilities always great. The breakfast in the morning was beyond delicious, the pool and spa area is well cared for and lots of room for many families.
nolan2012 - Aug 2021
249 Turbot Street Brisbane QLD 4000