2022-03-03
La Galerie Unveiled
There are pieces of art, then there are masterpieces.
One of four brand passions, Arts and Culture (with a French attitude) is a core part of the Sofitel brand. At Sofitel Brisbane Central we're fortunate to have Mitchell Fine Art, a stylish gallery in Brisbane's vibrant Fortitude Valley, as one of our partners.
Possessing over years of experience in the art industry, Mitchell Fine Art is home to an extensive selection of Australia's leading Aboriginal and contemporary artists. With decades spent working in Aboriginal communicated across Northern and Central areas of Australia, Gallery Director Mike Mitchell is particularly passionate about nurturing emerging talent and promoting art throughout Australia and overseas.
Similarly, subscribing to the philosophy that 'art is for everyone', the gallery also hosts regular exhibition openings and artist talks throughout the year, allowing art lovers an opportunity to mingle and engage with the artists themselves.
As a proud partner of the hotel, Sofitel Brisbane Central serves as an extension of Mitchell Fine Art's nearby gallery space, with countless Aboriginal and contemporary artworks from the gallery on display throughout the property – from behind reception to our top-floor executive lounge on Level 30.
Though nowhere in the hotel is the curated collection of pieces more on show than in La Galerie, a dedicated art space located at the back of our lobby.
Recently refreshed, with the dark mahogany paneling refitted with new white gallery walls and custom-lighting installed, Le Galerie is now an open, bright space where the art truly shines.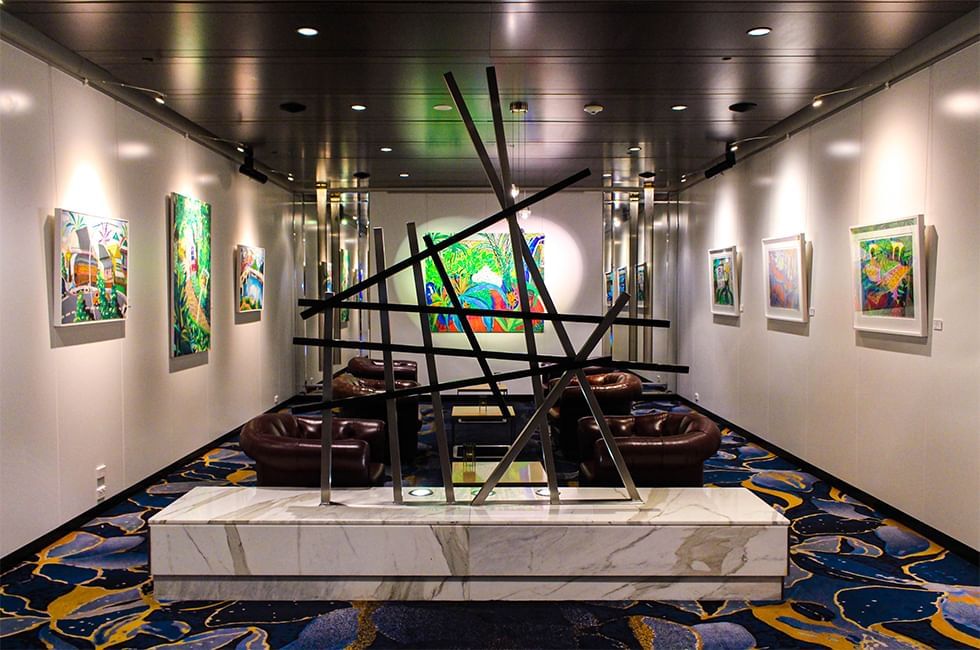 An ever-evolving space which will see a variety of artists featured throughout the year, La Galerie currently showcases the work of Bernard Ollis. With a career spanning 50 years, Ollis is the former Director of the National Art School and has had a constant stream of successful solo exhibitions.
Ollis is a figurative painter with an almost abstract leaning in all of his works and a perspective that invites the viewer in. Lamp posts, buildings and random objects warp and bend in a dream-likestate. His paintings are drawn from every day scenes involving people and places, and his oeuvre could be described as whimsical but his works are always carefully considered.
Many of the works currently displayed in La Gallerie are from a series called 'The Artist's Garden', which reflect memories from Ollis' overseas travels to famous artists gardens as well as his own.
Other artworks on display are of environments in Brisbane and Paris, providing a link between the beauty of landscapes between both cities. Ollis has a close connection to Paris, splitting his time between Sydney and his apartment in Montmartre.
"These artworks celebrate travels and experiences in familiar and new locations. They are not picture postcards, or the social media equivalent, but personal and original interpretations of special environments."
All artworks on display are supplied by Mitchell Fine Art in Fortitude Valley and are available for sale. For enquiries please contact the gallery directly on 07 3254 2297.