2023-06-14
THE BALLROOM'S GRAND TRANSFORMATION
Earlier this year, Sofitel Brisbane Central's premier conferencing and events venue, Ballroom Le Grand underwent a truly magnifique makeover.
Spanning close to 800 square metres with soaring six-and-half-metre high ceilings, the entirely pillarless Ballroom Le Grand is a breathtaking space that has hosted countless grand events. Currently the largest conference venue in a Brisbane-based hotel, Ballroom Le Grand can comfortably accommodate over a thousand attendees and offers extraordinary versatility, able to be divided into three distinct spaces and be arranged to suit a variety of theming options.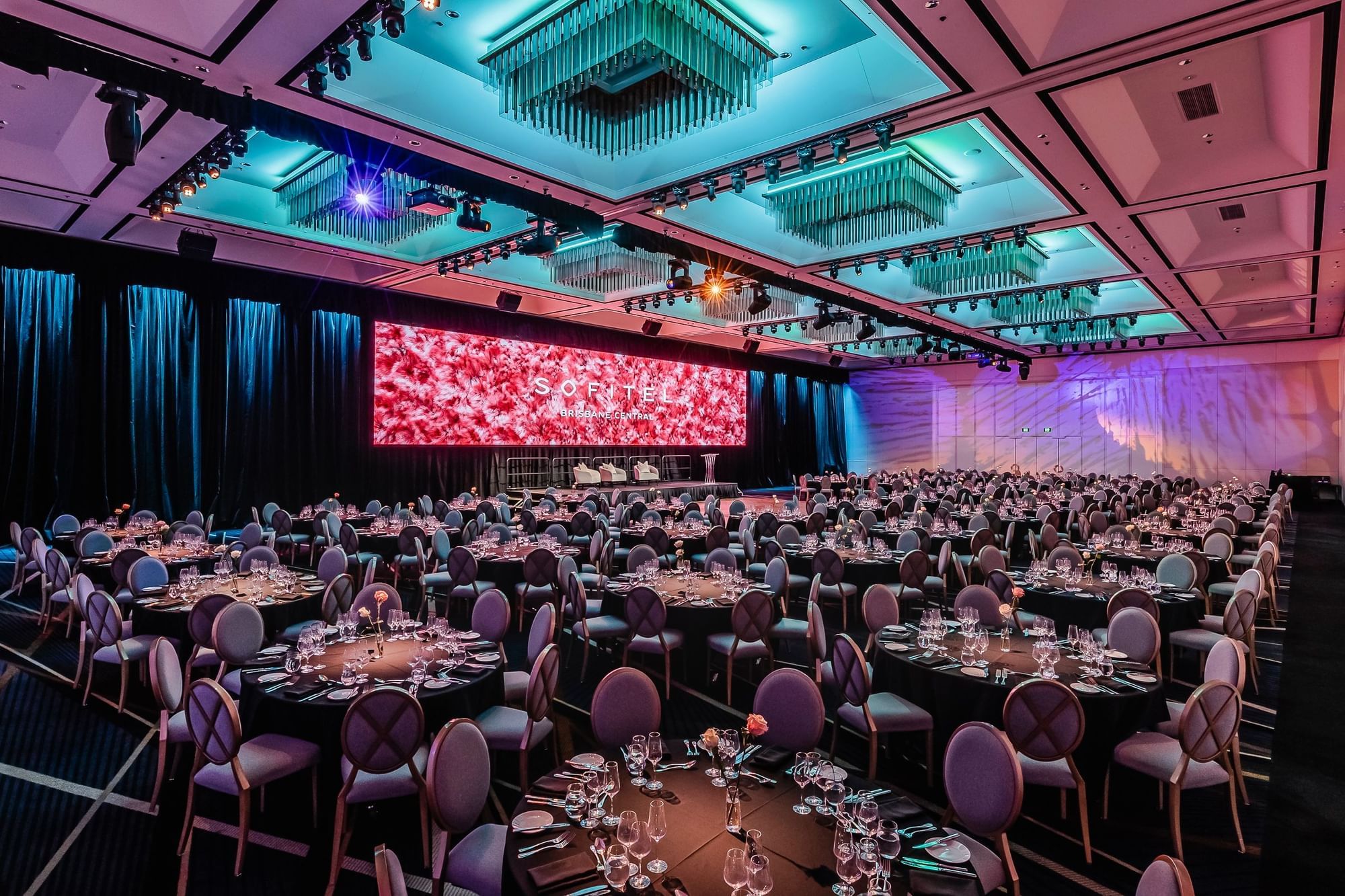 To further elevate and enhance the experience of attendees for decades of events to come, Sofitel Brisbane Central recently placed significant investment into the modernisation of Ballroom Le Grand.
The most noticeable and visually impactful enhancement was the replacement of the original wooden wall panelling with new crisp-white panelling along with the repainting of the entire ballroom, from top to bottom. This massive undertaking instantly transformed and breathed new life into the space, making it immediately feel lighter and brighter and giving it a new luxurious finish.
Ann Street Lobby and Registration Lobby, the two pre-function spaces which border Ballroom Le Grand, were given a similar treatment, each repainted along with Sofitel gold inlays to complement the ballroom's new look, plus were filled with eye-catching, new designer furniture.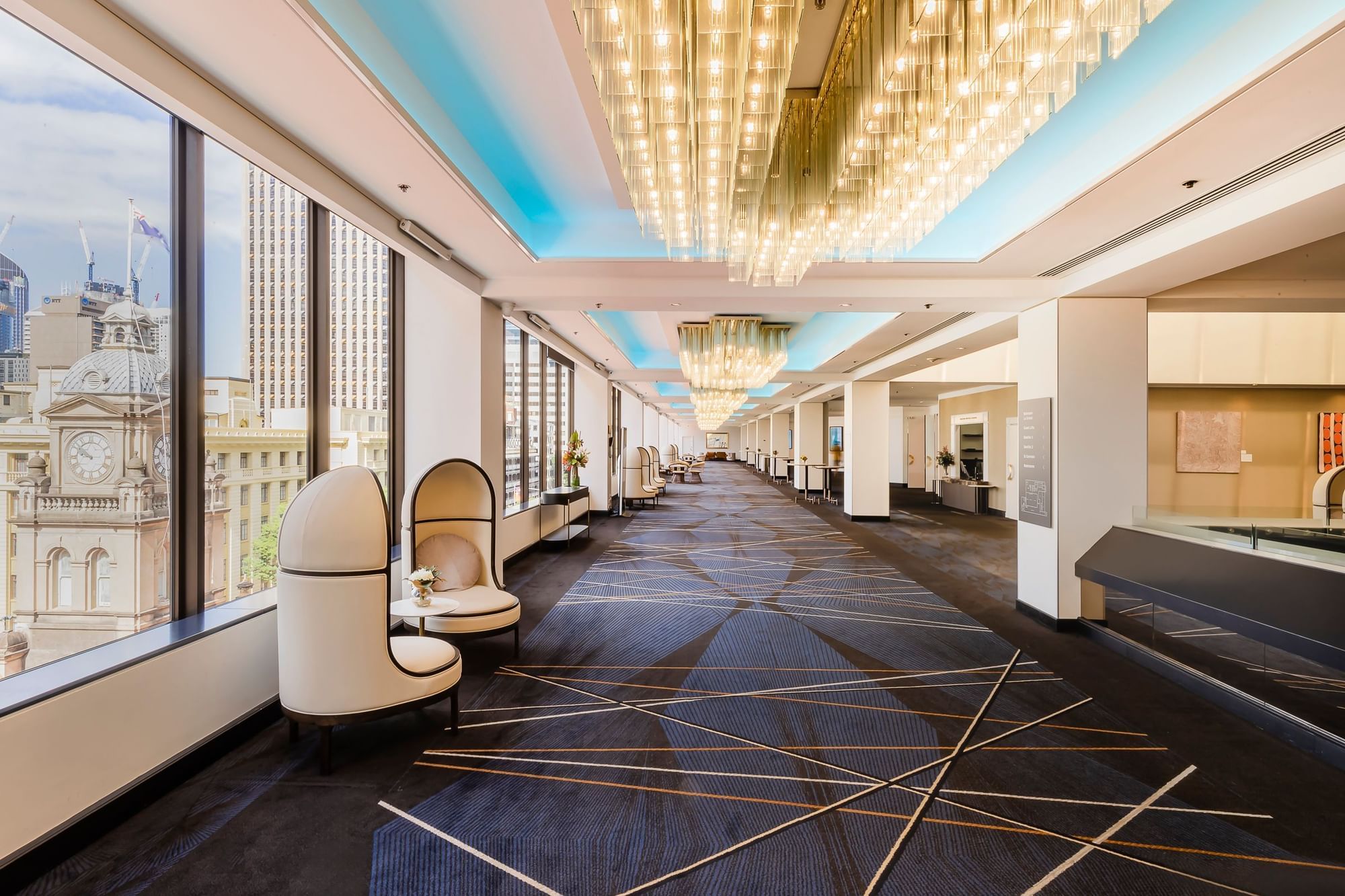 The least visible, though the most noteworthy improvement was the addition of two new soundproof operable walls and upgraded acoustic panelling. On the occasions the ballroom is divided to host multiple smaller-scale events, this will significantly mitigate any sound travelling from or between spaces and individual events.
Finally, a thousand new gold designer chairs were ordered to further complement the newly-refreshed space, and two new portable custom coffee carts will serve barista-quality coffee.
These latest updates follow other recent additions completed at the hotel, namely the introduction of an 18-metre LED screen in 2019 and a major boardroom conversion project in 2020.
Collectively, these enhancements further reinforce Sofitel Brisbane Central's long-held reputation as Brisbane City's premier venue for meetings, conferences, and gala events as well as highlight the hotel's commitment to ensuring many more magnifique moments are shared and created at the hotel long into the future.
To see Ballroom Le Grand's incredible transformation view the professional photos and take a 360-degree virtual tour HERE.
Alternatively, if interested in hosting an event, please make an enquiry HERE and a member of the hotel's dedicated Conference & Events team will shortly reach out to organise a site inspection.
Magnifique Meetings
For magnifique events, trust Sofitel Brisbane Central's meticulous attention to detail and creative vision that extends beyond the details. With Magnifique Meetings, the hotel will elevate your experience - be it personal or professional - to a whole new realm, drawing inspiration from the vibrant Brisbane culture, contemporary design and state-of-the-art technology - all with a touch of French flair, of course. Sofitel Brisbane Central will free your team's creativity - be it for brainstorming, decision making or team building - by employing expert planners and dedicated professionals to work closely with you to design impressive, immersive experiences infused with art de vivre.